Dan Xia Shan (2)
Bei Chuan Si is also referred to as Dan Xia Shan (Red Glow Mountain). Monasteries are often referred to by colorful descriptions of their surroundings.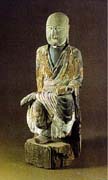 A Lohan (2)
There are 360 statues left from an estimated 500. These statues are hidden relics at Nan Hua.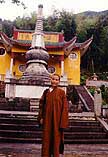 Yun Men Si (3)
A priest from Nan Hua Si visits Xu Yun's Tomb at Yun Men Monastery.

Xu Yun is considered by many to be the greatest Zen Master of the 20th century.

Dan Xia Shan (3)
The Monastery of Bei Chuan can be seen from a distance, nestled into the rugged mountainous countryside.