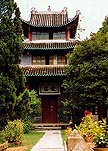 Nan Hua Si (1)
Nan Hua Monastery is located near the city of Shaozhou in Guangdong province. One of the oldest monasteries in south China, Nan Hua was established by Hui Neng (in approximately 675 AD), the last Zen Master to carry the bowl and robe of Bodhidharma - making him the sixth and last Patriarch of Chan Buddhism.

Nan Hua Si (2)
An arial view of Nan Hua Si shows the layout of the monastery grounds. The Iron Pogoda can be seen towering above the Sixth Ancestor's Memorial Hall in the center of the photo.

Dan Xia Shan (1)
Dan Xia Shan, or Red Glow Mountaion, is home to Bei Chuan Si (hidden monastery), founded in 900AD. In the valley flows the Jin or Zhen (Pearl) river.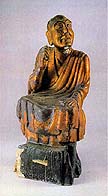 A Lohan carving (1)
Eighteen Lohan, or followers of the Buddha, have been depicted by numerous wooden carvings. These are some of the many relics stored at Nan Hua Si.