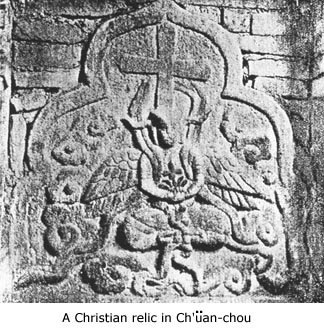 One of many Ancient Christian stone monuments which bear both European and Chinese inscriptions. 7th Century, China
However it was drawn and by whom, a new line was etched into the religious geometry of Daoist thought, a line that split concepts and qualities into polar opposites, a line which divided microcosm and macrocosm, light from dark, Yang from Yin. Re-uniting the opposites as One became the work of a new, spiritual alchemy, a regimen that could be taught and transmitted. The work was actually a method, a way, a school or a style for accomplishing a state of consciousness which the natural mystic could very easily discover for himself.
Religions, especially imported ones, that were based upon the distinctions of light and dark were not new to the Chinese. Persian traders had browsed the shops of Canton (Guang Zhou) three hundred years before Christ; and Persian traders were usually Zoroastrian. The need to proselytize no doubt "came with the territory" they marketed; but the ethical slant they gave to that line - that light and dark (Ahura Mazda vs. Ahriman) represented the polar opposites of good and evil - remained tangential to Chinese thought. The Chinese may have associated light with male and therefore nice, indeed, if you were one; but they never abandoned the idea of balance, and of cyclical eventualities. Dark may have been feminine but it was never evil. Dangerous, perhaps... but hardly evil. Zoroastrianism may safely be eliminated as a significant contributor to Daoist thought if it did in fact contribute anything at all.
More peculiar, if not unique, was that the Dao, itself, i.e., the "Ground of All Being", was seen as the Great Matrix, a female construction. The Dao was the Mother of all Creation. Civilizations, in particular proto-indo-european ones, do not usually envision an unwed Mater as being responsible for the all of creation; but, and this is merely curious, the Basques do, too. Their words for sky and also earth indicate this feminine, maternal identity. Also, unlike most other civilizations, they considered the moon to be masculine, the celestial representative of a great Lord not unlike Shiva. The rest of Europe may have considered this an insult to Artemis or Diana, but it was a designation of gender which came, no doubt, as a relief to the angst-ridden Man in the Moon.
On the other side of the world from the Pyrenees, Daoists formed their own trail, their own Way. Their main highway created itself from the confluence of five distinct courses: the original pragmatic, philosophical way of Lao Tzu; the more withdrawn, detached approach of Chuang Tzu; the yoga routes which advocated pranayama, diet and exercise; the herbal and chemical-alchemy avenues which sought to prolong and enrich life through the ingestion of special fungi or mineral compounds; and the spiritual alchemy or Hermetic path which was either introduced by Nestorian Christians or coincidentally received a new impetus or revitalization during the days of their immigration.
We are much indebted to the Eranos Yearbooks, in particular to the collections recently published by Princeton University Press and edited by Joseph Campbell, for the many essays which illuminate the otherwise shadowy subject of oriental alchemy. Erwin Rouselle, who contributed articles to this series, writes of his own experiences as a novice in Beijing's White Cloud (Baiyunguan) Monastery. It is worth noting that in his Spiritual Guidance In Contemporary Taoism he records his astonishment at the nature of certain requirements imposed upon him as he progressed in his spiritual regimen. "A new dedication is now undertaken. The novice is required to make a solemn vow to regulate his way of life according to a supreme principle, sub specie aeternitatis. These Confucians and Taoists made me swear to walk in the paths of Christ, understood in a very profound and ultimate sense."