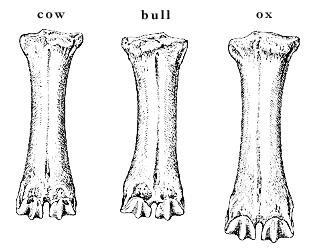 Metacarpal bones of a cow, a bull, and an ox which indicate that while the cow and bull are similar in size, the ox is noticeably larger.
As we would say "cattle" as an inclusive term, the Chinese use a single character to convey the meaning, "domesticated bovines" for all the sexual variants. If they need to be more specific they just add the necessary detail. In giving a title to the subject series of illustrations they elected to use the general term. Technically the title should be "the Cattle Herder;" but since there's only one animal in the pictures, we need a singular specific. As we would say "cow country", a more appropriate English translation would seem to be the Cowboy Series - but while this title well may describe a few Zen enthusiasts we all know and love, it just doesn't sound too Zen.
Can the animal in the pictures be an ox? It looks very frisky for an ox, so much so that the estimable Paul Reps calls the pictures "The Bulls". Yet the animal is shown with a ring in its nose and a tether attached to the ring and, also, with the man riding the animal. If there's a hint to be gleaned from that ring and rope then surely we are dealing here with a domestic beast of burden, i.e., an ox. But, Whoa! An ox is a castrated animal!
In all the Oxherding versions, the animal is being forced to submit; but why is such a struggle worthy of notice? Would we immortalize in art the struggle between a gaucho and a cow that already had a ring in her nose; or would we hail as a conquering hero a cowboy who had subdued an emasculated ox that was similarly nose-ringed? True, cows and oxen can give a fellow a hard time occasionally; but the disciplinary measures he takes can hardly serve as an exemplar for any great spiritual combat. (We should note, however, that subjugating a wild, powerful, large, and obviously virile animal is precisely what the slightly-built and unarmed matador does during the ten minute course of his faena.)
Well, we muse, does some sort of stigma attach to its having been castrated? Further, since there's no indication of a penis either, are we justified in wondering if the animal is being denigrated in some sexist way by showing it to be devoid of any masculine characteristics?
Let's consider how the practice of castration might have been regarded during the times that the pictures originated.
In China and, indeed, in all the world's civilized countries, castration was regarded as a far more efficient way to promote proper conduct than persuasion, training, or any of the more creative forms of rehabilitation. Not only was castration the Prozac of the ancient world, it was prescribed as punishment for crime and as a means for earning profit. Whether legal or illegal, there was always a market for castrated slaves, and kidnappers routinely exploited this flesh trade.
Force, however, was not always necessary. Eunuchs were very desirable employees, and many men voluntarily submitted to the procedure. Rich potentates and businessmen had many wives and concubines and only eunuchs could safely be permitted to enter their domiciles. Moreover, since eunuchs had no dreams of founding dynasties or financial empires which they might bequeath to an heir, they lacked any nasty competitive ambition to perpetuate name or power. However vain or greedy a eunuch might become, neither his desires nor their fulfillment could reasonably extend beyond his lifetime. If this were not incentive enough - and it certainly should have been - to engage them, eunuchs were hired because they made such fine employees and administrators; they could concentrate fiercely on their work, being given so rarely to common distractions.
We know that in Rome or Mesopotamia, castration for treatment, punishment, or profit was routinely practiced. But the Chinese not only subscribed to this practice, they took it into other dimensions, "hypercastration," if you will. In fact, rarely did they limit themselves to the bounds of ordinary lopping. As our sexless Oxherder bovine might illustrate, they removed the penis as well. Consider an actual Chinese record which Dr. Guido Majno has quoted in The Healing Hand (Harvard Press, l975): (the squeamish can pass over this.)
"When about to be operated on, the patient is placed in a semi-supine position on a broad bench. One man squatting behind him grasps his waist, and another is told to look after each leg. Bandages are fastened tightly round the hypogastric and inguinal regions, the penis and the scrotum are three times bathed in a hot decoction of pepper pods, and the patient, if an adult, is solemnly asked, whether he repents or will ever repent his decision. If he appears doubtful he is unbound and dismissed, but if his courage has held out, as it usually does, all the parts are swiftly swept away by one stroke of a sickle-shaped knife, a pewter plug is inserted into the urethra, and the wound is covered..."
We are left wondering on what occasions non-adults were castrated and what the outcome was if such patients objected. (It is of some interest to note that the great vocal range and quality of the Italian opera's Castrati or Evirato was in fact facilitated by their having been emasculated as choir boys to insure greater lung capacity and bulky stature. The practice of emasculating young singers continued into the modern era but ended, alas, before the advent of Rap. This, however, is another subject...)
Of course, if the animal in the Oxherding pictures is intended to be merely an animal, we cannot account for the absence of a penis - the Chinese did not insert pewter plugs in bovine urethras.
We can say, however, there could be no coy reluctance to reproduce genitalia for religious art: As it happens, the planet/god Saturn, which will prove relevant to our discussion, was theriomorphically represented as a bull. As the picture here displayed indicates, the Chinese were entirely at ease with the artistic presentation of sacred bovine testicles.