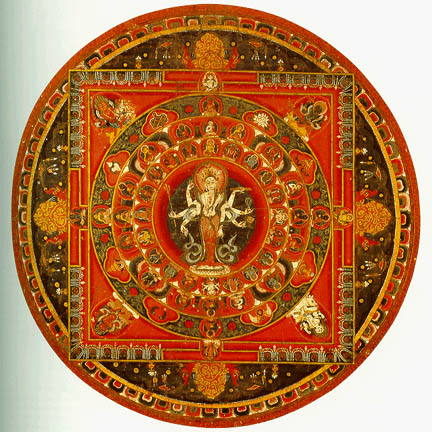 Much detailed mandala of Bodhisattva Avalokitesvara. Note the directional colors of the figures placed mid-point in the square's perimeter. East is white, west is red, north is black, south is yellow. Nepal.
Sulphur and mercury, the essential ingredients, whether existing in or out of the mind, had associated properties and personifications. Sulphur was the symbol of sun, red, hot, male, pingala, etc. Mercury was the symbol of moon, white, cold, female, ida, etc. All of the basic metals had similar referents.
The alchemist or artifex began to consider character and personality in an academic, objective way. For, just as we tend to attribute human sentiments to everything from ships to pit bulls, he saw in the planets, stars, and chemicals and in their bodily correlates distinct personality traits. (All of us are probably familiar with an overly strict military officer, a martinet - a little mars, or know a person who's mercurial, or earthy, or jovial or saturnine. Surely we prefer persons with sunny dispositions to those who are looney. And if we're not aware of it we certainly should be - Venus lent her planetary name of love to everything from venerate to venereal disease.)
So, the artifex gained a sense of control from understanding himself; and even if that understanding was counterfeit, it had a placebo's efficacy.
Every regimen contained endless details for the artifex to consider and memorize. Repetition produced the stability of patterned response. The details themselves were seductively mysterious and as such were fascinating. This was vital. Enlightenment's first step is attention, concentration. Once this is accomplished, meditation and samadhi are possible.
The Rule of Correspondences always prevailed: as it was in the universe's macrocosm, it was in the practitioner's microcosm. The firmament was the big corpus: the human body was the little one. Whether the meditators called their regimen Kundalini Yoga, the Kabbalah or the Microcosmic Orbit, all that was required to realize the majestic order of the Cosmos was motive, means, and opportunity. The means was the regimen; the opportunity was obtained by withdrawing from society, i.e., by detachment; and the motive was to be free from chaos, the state which Zen calls disillusionment, i.e., the Swamp.